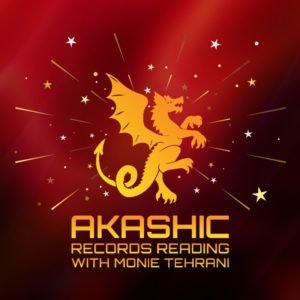 High vibes abound here at Quantum Stones as we welcome meditation coach and energy healer Monie Tehrani to our collaborative team! With a mission to promote spiritual activation and energy healing, she works with several modalities to assist knowledge seekers who desire to attain greater balance, clarity and inner peace.
One of the most powerful tools in her treasure chest is the ability to provide Akashic Record Readings. Often called the Book of Life, the Akashic Records are an unseen vibrational storehouse of every living soul's past, present and future—including your own Divine Soul Blueprint.
The Universe has gifted us with access to this vast resource that can help us discover the path to our purpose as our true Higher Self. However, one must be able to tap into those energies and translate them in a way our human spirit can understand and use it to our advantage. Monie excels at Akashic Record readings and gives you and the Guides and Recordkeepers her full attention for optimal translations of Universal information.
The Benefits of Akashic Records Readings with Monie
If you feel the need for deeper inner guidance, seek clarity about uncertainties, and want to explore your intended path to self-discovery, the Akashic Records may hold the answers you seek. Readings with Monie can help you find greater truth and inner peace that raises your level of consciousness and vibrations that may assist in:
Clearing previous soul vows and contracts that hinder abundance in the present.
Learning how to release unconscious blockages that prevent greater abundance and joy.
Discover whether you are a Starseed with history in other dimensions or universes.
Understanding the soul history behind your current or past relationships.
Realizing your gifts and higher purpose in this incarnated body.
Receiving guidance about life decisions and processing them emotionally, physically, and spiritually
Discover Your Past, Embrace the Present, & Explore Future Possibilities!
When you first encounter Monie by video chat, her vibrant yet soothing energy immediately radiates, allowing you to feel both
comfortable and confident in your reading. Along with Akashic Record readings, Monie's skill sets and certifications include energy therapy, chakra balancing, and sound therapy to help you have a clearer connection to your Higher Self.
Contact Monie to discuss your spiritual needs, and perhaps a private Akashic Records reading is in your future!
Call: 310-347-1026 to book an APPOINTMENT
Akashic Record Reading Testimonials Candace A.
January 24, 2022
An Amazing Experience
Monie is warm, open, friendly, and above all an amazing teacher and spiritual coach. The akashic record was a unique and fun-filled experience that provided me with answers and guidance surrounding some my biggest questions in life. Through her, I was able to gain transformational insight that I otherwise would not have been able to get on my own.
She was clear in the description and confident in her answers. I genuinely trust her and recommend this experience to anyone trying to learn more about their soul journey. Very happy
Monie had a very welcoming smile and energy. I truly grateful for having this opportunity to peek into my Akashic Record. I look forward for another reading. If you're in a fence, don't be, I highly recommend Monie. Christina Hall
January 21, 2022
Amazing Experience
This reading came at a perfect time in my life. It was nothing short of magical. The reading gave me clarity and reassurance about the path that I was on. I walked away from the experience feeling confident and inspired.
Monie is such a wonderful guide to work with. I am always impressed by her talent and her warm personable nature. I highly recommend this service for anyone needing reassurance, clarity, or just added guidance. Joan Celaya
January 29, 2022
Akashic Record Reading
Simply put, Monie is phenomenal! I felt at ease immediately. She was able to clarify and confirm many things for me. I came prepared with a list of questions and asked even more throughout our session. Not only was she patient, but she was also understanding and generous with her time. This was one of the best readings I have ever had with such great value. Akashic Reading
I had my first ever Akashic reading with Monie a couple of weeks ago, i must say I wasn't sure what to expect, but Monie's energy immediately put me at ease.
I was told to think of questions and ask for clarifications that my higher self may have the answers to while my Akashic was open. Monie was very clear and thorough with the incoming responses, even with those that made little sense, Monie clarified their meanings perfectly.
I really appreciated the time I spent with Monie because she confirmed the long time queries I had as a soul being, she also gave me unexpected additional information relating to my queries.
I would therefore recommend Monie to anyone that is on a spiritual journey and needs that extra guidance or assistance, or even if you are just generally interested and wants to know whom you are as an individual and to know what lessons you need to overcome to improve your life, you wont be disappointed.
Monie has a lot to offer so why not give her a try? Heartfelt and Authentic
Monie is one of the most authentic & gifted healers I've had the pleasure of working with. Our session was filled with amazing insight and wisdom. She was able to share incredible messages with me. Her guidance, wisdom, and channeled downloads were spot on and perfect words for my current situation.
The answers she provides are so detailed and so relatable. She is thorough and precise and so gifted. Monie is so warm and caring and passionate about helping & serving her clients. I am so grateful for my session with her. Wonderful and Accurate Reading
Monie is truly intuitive knowing that I was eating too many eggs, which I have been doing for some for breakfast. Spiritual and more mundane questions were answered and I was pleased with her and the Akashi Record's insights. I recommend her highly.

GISELA JARAMILLO
April 7, 2022
Akashic Records Reading
Thank you so much Monie!!
My reading answered so many questions and concerns I had been having and occurrences that I didn't understand and now thanks this reading I understand completely and am so grateful for this reading.
It was more thank I expected and I am very happy to have decided to do this reading and found you to assist me with all my questions and understanding so much that I didn't understand the why and now it all makes sense, so much sense and I thank you and everyone that came into the reading to assist in helping me.
Thank you so very much!