Some of our most powerful tools for mind/body/spirit transformation yet – the exclusive Egyptian Amulet Series combines the mystical powers of this highly advanced ancient culture and the healing properties of Mother Earth's healing crystals and stones. Each of these unique pendants  are infused with three of our exclusive LightShield harmonic infusions including the Sound of the Sun, the Sound of Earth, and Shield My Aura.
However, we've made some exciting additions to the Egyptian Amulet Series to enhance each stone's natural resonance and healing properties to propel your mind/body/spirit journey to new heights. New inclusions on some of these amulets include the addition of magnets behind center crystals in the Eye of Horus and Scarab line…a new selection of one-of-a-kind labradorite stones in the Solar Series…and we've employed the power of ancient, protective symbols upon each piece.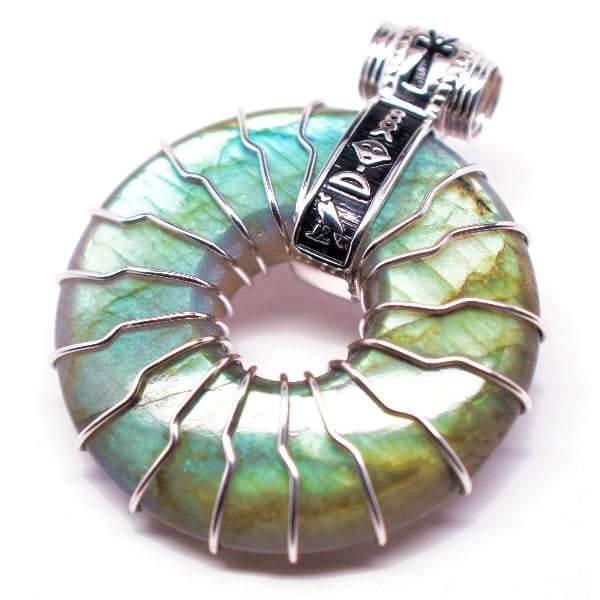 Emblazoned with the Sig Rune and the cartouche of the Egyptian God Horus, LightShield infused Solar Egyptian Amulets are powerful and stylish healing companions and are ideal for daily wear or meditation sessions. Eye-catching and captivating, the ancient symbol of the Sig Rune is representative of the radiant, energy of the sun, bringing one closer to the path of ascension as they experience greater resonance with this life-giving force. These striking amulets are also adorned with a striking bail laden with the protective cartouche of Horus, the Egyptian God of the Sky, War, Hunter's and Kinship. Considered a fierce protector of the ruler of Egypt and one who could communicate with the sun and moon, many users employ his symbols for protection and for safe astral travel to higher spiritual realms to communicate with otherworldly beings. (Click here to find out more…)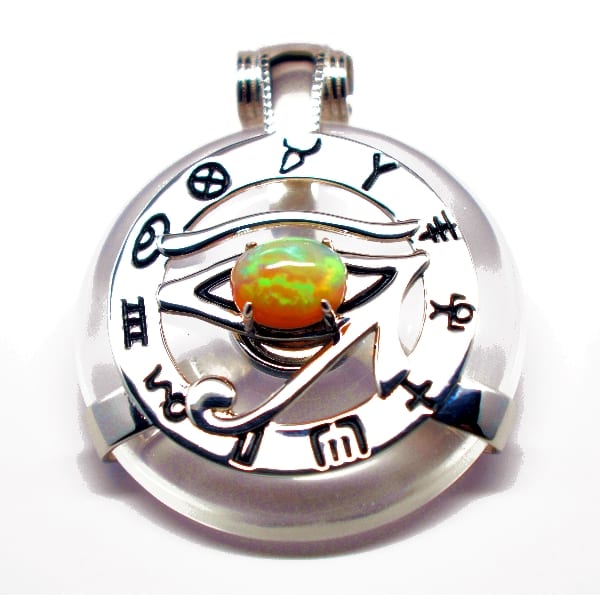 "The One Far Above"…the translation of the name Horus is certainly indicative of the heights the distinctive Eye of Horus Egyptian Amulet series propel users to! Our exclusive Eye of Horus Egyptian Amulet series boasts a magnet behind the center 'eye' crystal, which increases the magnetic field of each stone and the resonance of the LightShield infusion process. This powerful healing tool is more than merely eye-catching, as the Eye of Horus has long been considered a powerful shield that wards of danger and negative energies. Often depicted as falcon-headed man, the all-seeing Egyptian Sky God Horus was one of ancient Egypt's most revered deities, worshipped from the late Predynastic period through Greco-Roman times. Horus was said to be of the sky; hence he is said to contain the energies of the sun in his right eye and the moon in his left. The Pyramid Texts proclaim, "Let the eye of Horus come forth from the God and shine outside his mouth." These unique pendants feature an authentic gemstone 'eye' in the center, that can serve as a powerful personal shielding tool and help one 'see' greater truths that are vital to discovering your true, Higher Self. (Click Here to find out more…)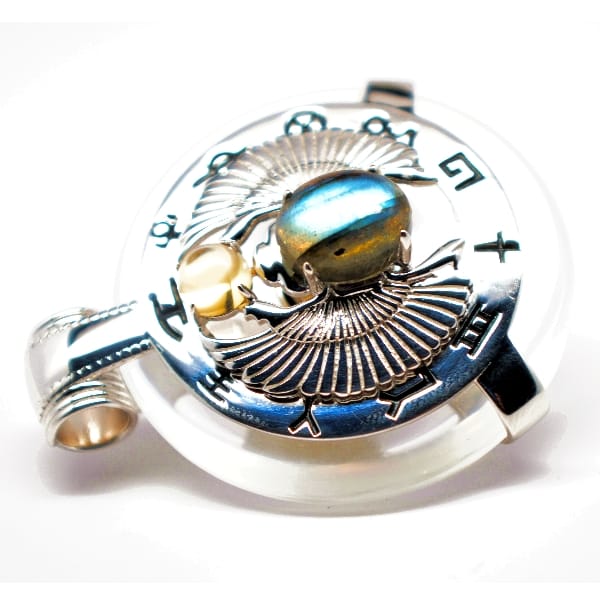 Our only pendant line so far to feature 2 healing crystals…the Scarab Egyptian Amulet line is one of our most extraordinary and distinctive design in the series. In ancient Egypt, the scarab beetle was considered a messenger and guide of the cosmic universe, helping one see truths to allow for changes in their life path and choices. Scarab amulets were employed to promote creativity and greater imagination, opening users up to sacred knowledge that can provide revelations that can illuminate the path to ascension. Each of these exclusive pendants features a torus base stone, a 9x11mm authentic 'body' crystal, and is topped with a genuine 6mm citrine crystal…the power of 3 healing stones, 3 LightShield harmonic infusions, and the protective adornment of ancient symbols and the shielding scarab all in one Egyptian Amulet! (Click Here to find out more…)
The Quantum Stones Promise…
All of our Quantum Stones are of the highest quality, and we use only authentic gemstones and 925 Sterling Silver adornments. Our goal is to help your healing journey, and we back every amulet with a 30-day money back guarantee, so your complete satisfaction is ensured. Take a look at these new, exciting series and you're sure to find one (or two) that you can't resist adding to your collection of healing stones and crystals! Learn more details about each individual Egyptian Amulet Line on the Category Pages, and find the stone and adornment combination that best suits your healing needs and goals for your spiritual journey.