The patterns of sacred geometry surround us, and they are observable in the design of everything we perceive as 'real.' Since ancient times these complex symbols have been considered representative of the human condition; hence they are viewed as 'sacred.' Consisting of set patterns of geometry and mathematical ratios, sacred geometry is honored across countless cultures, adorning structures of worship, revered sites, sacred texts, artworks, and of course – jewelry! By contemplating upon these captivating symbols, it is said to help one gain insight into the mysteries of the universe and the greater design. Take a look at our exclusive line of LightShield™ harmonically infused Sacred Geometry Pendants, and discover how to raise your vibrations to their highest potential — with style!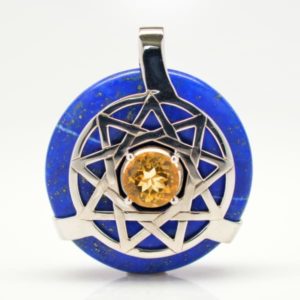 The magnificent Trinity Star Pendant is one of our most innovative designs that can be programmed to represent your intentions and ideals. This is YOUR journey…your healing tool – the power of manifestation is in your hands, so the meaning of the 9-points of the star is completely up to you! In our vision…the Trinity Star represents 9 essential ideals of the Mind – Body – Spirit journey:  Acceptance, Love, Peace, Respect, Restraint, Vigor, Presence, Balance, and Enlightenment. A genuine 10 MM authentic crystal gemstone is placed in the center of the torus to amplify the resonance of the pendant and is representative of the zero-point, all encompassing perspective one has upon completion of each aspect of their spiritual journey. (Click Here for More Details)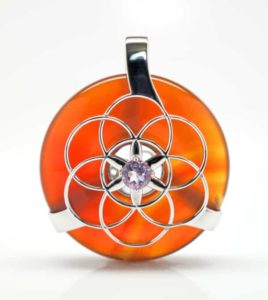 By far one of our most powerful sacred geometry designs, the Seed of Life Pendant seems to have a unique vibrational frequency that 'exhibits a life of its own,' according to our independent lab's GDV testing results. This stunning pendant exhibits the 7 circles of the Seed of Life, which is the very basis of creation. Each of the six rings seamlessly connect to one another, symbolizing the harmony and oneness of all things in the physical and cosmic realms. The outer circle encompasses the seed, shielding it as it prospers in unison. Some may view the seeds as the 7 days of creation, however, the meaning of your 'seeds' are up to your intentions and discretion. Centered with a powerful 6 MM authentic crystal gemstone, this incredible Sacred Geometry line is a fan favorite! (Click Here for More Details)
FRUIT OF LIFE  LABRADORITE / IMPERIAL JADE SERIES

Nestled behind each striking rainbow labradorite and imperial jasper healing crystal in this simple, yet unique healing jewelry series, you'll discover an additional source of energy – 13 small magnets shaped in the form of one of the most prized Sacred Geometries — the Fruit of Life! A symbol of unity and believed to be a gateway to higher frequencies that allow one access to other dimensions, the 13 circles in the Fruit of Life pattern are said to contain all possible dimensions of the universe. 12 circles are believed to be steps or principles that can be used to navigate through one's 3-D existence to gain access to the portal of the 13th centrally placed circle and tap into higher consciousness states. Labradorite is a stone of cosmic energy and prophecy that when combined with the power of magnets and sacred geometry, it becomes an incredible tool for spiritual transformation!
The Quantum Stones Promise…
All of our Quantum Stones are of the highest quality, and we use only authentic gemstones and 925 Sterling Silver adornments. Our goal is to promote your healing journey, and we back every pendant with a 30-day money back guarantee, so your complete satisfaction is ensured. Take a look at the unique Sacred Tree Series and you're sure to find one (or two) that you can't resist adding to your collection of healing stones and crystals! Learn more details about each individual Sacred Geometry Line on the Category Pages, and find the stone and patter combination that best resonates with your intentions and goals for your spiritual journey.
Unless otherwise noted, each Sacred Geometry Pendanr is LightShield™ infused with 3 harmonic scalar frequencies through our one-of-a-kind quantum generation process.
"The Sound of the Sun"  ~  "The Sound of Earth"  ~  "Shield My Aura"
You may choose to have 3 additional harmonics infused and we offer high-quality Sterling Silver Chain upgrades. Each pendant comes with a free leather cord and a gift box, so it's ready for wear upon arrival – just set your intentions and enjoy your tool for transformation!