Strong and resilient, mighty and tall, trees are one of Mother Nature's most amazing creations. The air we breathe, the structures we take shelter in, the wood that provides fire, the cooling shade they offer, the fruits of their labor that give us sustenance…trees are truly a powerful,  magnificent, and sacred part of our natural world. They serve as one of the finest examples of the cycle of all things, the connectivity of all things in nature, yet remind us of the connection we also have with the divine, as the cycle of life progresses at its intended, natural pace.
From the roots to the leaves and fruits of Sacred Trees, each part works in unison to create magic…survival, sustenance, and reproduction – all made possible through the vital elements of fire, earth, water, and air. The cycle of life, the synchronicity required for success, and the intrinsic role that our mind, body, and spirit all play in manifesting those aspects of ourselves to their highest potential.
We have a Sacred Tree in our collection specifically geared to help you set intentions and begin creating the reality you desire. Whether your're seeing greater overall prosperity, greater harmony, romance, or to connect with the divine, you'll find something special and 100% unique here. Each Sacred Tree Pendant is hand-crafted by our talented silver artisans and will be unique not only in the appearance of the tree, but also of the stone. All wrapping and adornments are crafted from 925 Sterling Silver, and each comes with a stainless steel chain (22″, 24″, or 26") of your choice and a stylish case and gift box.
For this entire line of pendants, the pendant in the photograph that you see by each description is the actual pendant you will receive!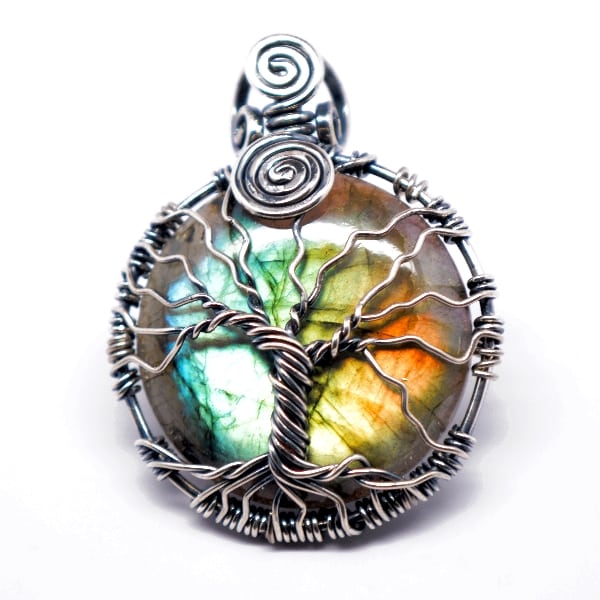 Honored throughout history by numerous cultures as a symbol of creation, the Tree of Life Rainbow Labradorite Pendant is designed to help one discover the vitality of sustenance – sustenance to all aspects of the being – mind, body, and spirit. It's about vitality and rejuvenation, honoring that each life is valuable as a part of the collective and that when working in harmony, we all flourish within the collective. The Tree of Life Pendant series features a round 35mm rainbow labradorite center stone and will be custom infused with 3 of our exclusive LightShield harmonic scalar frequencies of your choice! (Click Here to Find out More)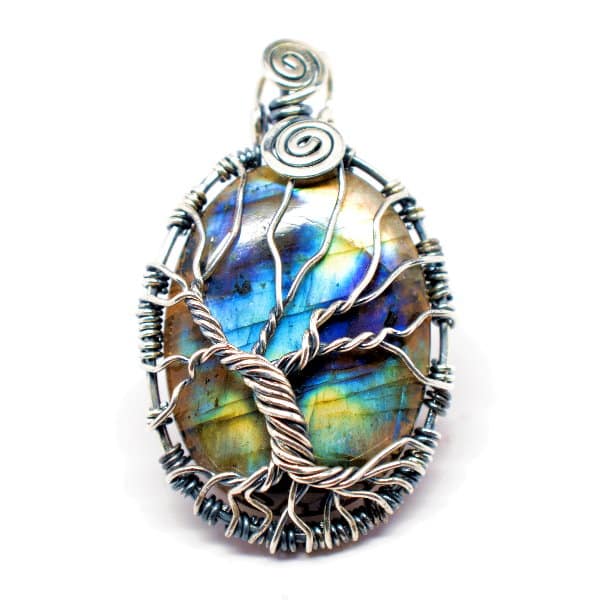 Are you seeking greater prosperity concerning your health, wealth, family, work, love, fortune, or wisdom? Regardless of which aspect of your journey you are seeking to find greater success and satisfaction within, the Tree of Prosperity Pendant can help one find the clarity, insight, motivation, and intuition to tap into the synchronicity of the universe that often put us in the right places at the right times to find prosperity in many forms. The Tree of Prosperity Rainbow Labradorite Pendant series features a one-of-a-kind 40mm. x 30mm oval shaped rainbow labradorite gemstone. In addition to our standard 3 harmonic infusions, Attract Prosperity & Success, has been custom infused into each of these pendants. (Click Here to Find out MORE)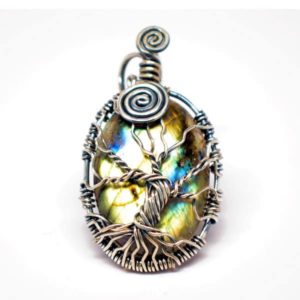 Whether you are feeling anxious, depressed, trapped under old baggage, or out simply out of touch with the oneness of the collective, the Tree of Harmony Rainbow Labradorite Pendant can be programmed with your intentions to eradicate any issues you set your intentions towards. Disharmonic vibrations congest our chakras, fog our auric field, and can result in poor emotional and physical health or a sense of disconnection with our spiritual selves. The Tree of Harmony Rainbow Labradorite Pendant is additionally infused with our exclusive 'Anxiety Healing, Release the Feeling' harmonic frequency, to help tap into your healing intentions and raise your vibrational resonance. The Tree of Harmony Pendant Series features an eye-catching 35mm x 35mm oval rainbow labradorite – a powerful stone for lifting spirits and reconnection with the divine. (Click Here to Find out More)
TREE OF ROMANCE
Love is one of the most precious gifts of all, and while friends and families typically offer much-appreciated love, that gift of passionate, romantic love can be ever so evasive. However, the Tree of Romance Purple Imperial Jasper Pendant can help clear and balance blockages that impede your ability to find and embrace true love. If you're ready to let go of the past and are ready to use the Law of Attraction to manifest your greatest love of all, check out this line, which has been additionally infused with our 'Experience Passion and Romance' harmonic frequency. Available in two sizes – 35mm x 25mm oval or 30mm round, you won't find a more romantic Quantum Stone.
TREE OF INFINITY
The striking Blue Imperial Jasper Tree of Infinity abounds with cosmic energy, lending to its properties of divination, prophecy, and the revelations of the path to the higher self. This stone is designed to be programmed with YOUR intentions, while our LightShield harmonic infusion process amplifies them. So, whether you're looking for endless creativity, love, success, cosmic wisdom, or peace, the combination of the lunar energy of the blue imperial jasper and the Tree of Infinity will support your goals. This pendant features our 3 standard harmonic frequencies, plus our exclusive 'Sea Dreams: Whale and Dolphin Frequencies' will also be custom infused! Available in two sizes: 35mm x 25mm oval or 30mm round, this distinctive pendant is ideal for any intention!
The Quantum Stones Promise…
All of our Quantum Stones are of the highest quality, and we use only authentic gemstones and 925 Sterling Silver adornments. Our goal is to promote your healing journey, and we back every pendant with a 30-day money back guarantee, so your complete satisfaction is ensured. Take a look at the unique Sacred Tree Series and you're sure to find one (or two) that you can't resist adding to your collection of healing stones and crystals! Learn more details about each individual Sacred Tree Line on the Category Pages, and find the tree and stone combination that best suits your healing needs and goals for your spiritual journey.