Published date: June 19, 2017
Overview and Full Disclosure
My name is Albert Milligan and I am the principle founder of Quantumstones.com, which was started on August 2, 2014. This document is intended to give you full disclosure of our history, intentions, the future directions of the company and our plans for expansion. This article is also in reply to a review received by "David Sereda" on June 18, 2017 on our Facebook fan page (See his review below). As you can see, Mr. Sereda states that we are "a rip off" and that our customers have "all been scammed." He further states that I stole the ideas from Davidsereda.net and that we have no real technology for imprinting (infusing) our crystals. I feel it necessary to respond to his claims and share it with our customers, fans, followers and future customers to set the record straight.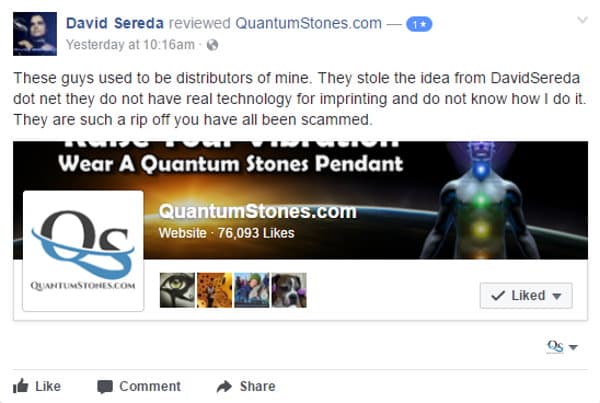 How QuantumStones was Founded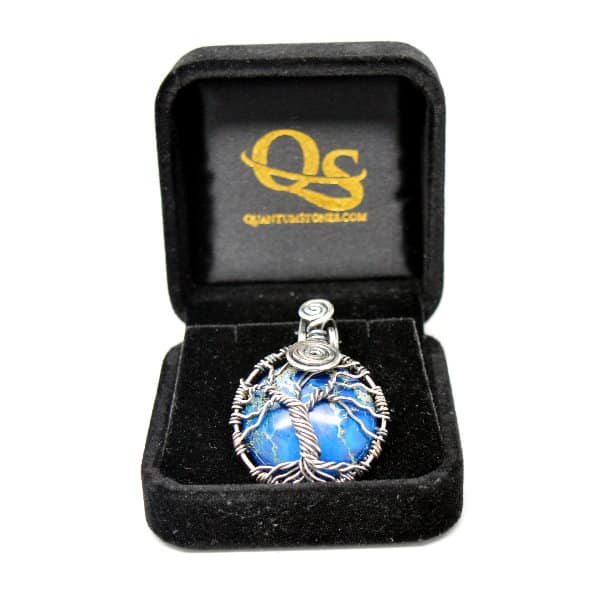 Mr. Sereda is correct in saying that at one time we did sell his line of pendants on the QuantumStones.com website. In fact, the site was created to do just that—expand on the line of pendants and technology for imprinting that Sereda had created and developed. I've always been attracted to the healing powers of the mineral kingdom, and at the time, I also developed a site called SpiritDetox which was designed to share all the benefits of healing clay.
At first, I thought it would be possible to imprint mineral clay with the healing powers of harmonic codes. This was the primary reason for contacting David Sereda—to see if this was possible. After Speaking with David a few times, he indicated that he didn't think it would be possible to infuse clay with his codes at the volume I wanted to do. After finding out more about his imprinting technologies, I wanted to see how it would benefit people wearing his pendants and what results I would have to share. I purchased a pendant myself first and was happy with the results. So, in August of 2014, QuantumStones.com was born venturing out selling crystal pendants.  I have never seen how he programmed the crystals or met Mr. Sereda in person.
Selling "David Sereda" Pendants and My Experiences
In the beginning, things seem to go well selling his line of pendants. At first, I worked with David's mother-in-law to get the pendants. After that, it switched to me working with his wife. Then, his wife didn't want to sell the pendants anymore, so I started to work with David directly. My main concern working with David was the issue of getting pendants out to customers in a timely manor. I experienced delay, upon delay most of the time. Many customers began asking why it takes so long to order and receive pendants. My reply was that I have to make a request with the distributor and hope it was in stock, and if it's not, you have to wait.
I felt that it was not fair for customers to have to wait anywhere from 2-8 weeks to get their order. I approached David several times to see if operations could be streamlined so we could find faster ways to get the pendants in customer's hands. Nothing was resolved, and I started to feel the frustrations of unhappy customers due to not being able to get out orders in a timely and professional manner. I also felt it was necessary to offer customers more for less, in the way of free chains/leather necklaces and bails for lower-priced pendants. I have never met David Sereda in person, or seen firsthand how he imprints his stones or crystals. I've only purchased from him by email and spoken with him a few times over the phone.
My Connection with SOURCE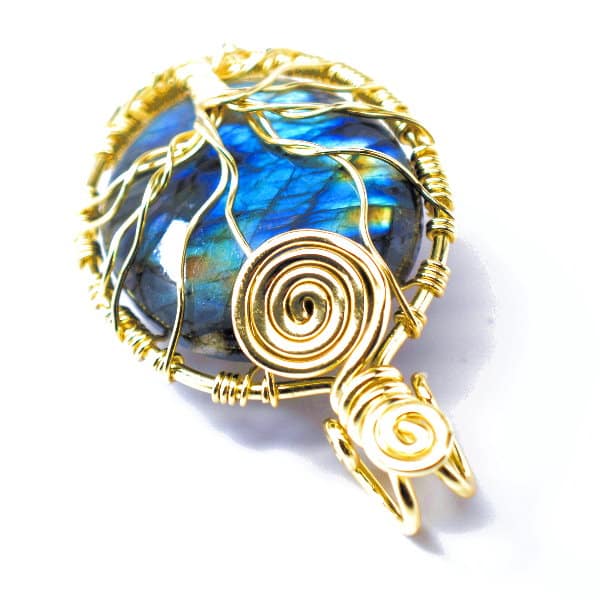 Not wanting to continue to feel frustrated and held back, I decided to venture out and use my 30 plus years of Electrical Engineering background and develop my own technology and line of pendants. The best way to describe the experience upon deciding to venture out was that of being connected to an energy "SOURCE" of information. I would awaken with insight and information on how to build a harmonic infusion generator of my own creation. I do believe that wearing and using crystals helped me 'tap' into this source of information, and I was inspired to create an open source infusing technology for imprinting stones, and crystals. This also includes many of the designs, that I now sell on Quantumstones.com, that includes crystals and sacred symbols. I started selling my own line of pendants in November of 2015.
You Can't Own or Control Anything from Nature that Should "Benefit" Humanity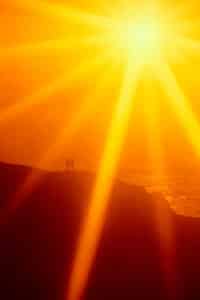 Upon finding out that I had ventured out on my own, David Sereda became upset and felt that I had stolen his ideas for the pendants and some of the harmonic codes. David uses the sound of the SUN (from NASA) to harmonically infuse his pendants, and I also felt that would be a good code to add to mine. David asked me to not use the sound of the sun in my pendant, because that was his original idea. "My reply was you can't control what nature has to offer, and if you were inspired to use it, it should be for the benefit of all."
I decided to use the harmonic codes from the sounds of the sun, sounds of the earth and a protective code called "shield my aura." Many of the base stones I use for my jewelry David also used, which also resonates with the Chakra system (if you do an internet search you will find them look for "Chakra Stones"). So, I used the same base stones and crystals that existed way before Sereda started selling pendants. I didn't use any of his original encoding sound track, because I developed my own codes.
Open Source Spirituality
In order for us to survive as a species, we must move towards "OPEN SOURCE SPIRITUALITY" – which means, we must learn to honor our bodies, honor others and honor the very planet in which we live on. It's similar to open source software, where the programmer share their talents and abilities with others (for free), and receive donations for their work. Also, like open source cryptocurrency, where it decentralizes banking and creates a level playing field for emerging economies without centralized manipulation. Those who understand these principles will move on from lack and limitations and move more into being a true c0-creator and connect with higher power sources, not wanting to limit or control others.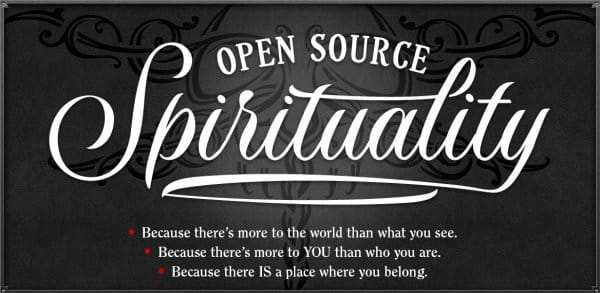 What's in the Future for Quantumstones.com?
Currently, we have over 76,000 Facebook fans, and we have plans to double our fan base in the next 6-9 months. We have 40,000 – 70,000 visits a month, and we have great plans to add more content regarding health and wellness. We are developing an updated website, which will be faster and better, and I hope to roll it out in the next 2-3 weeks. We are also developing a gifting program, where we will gift one free pendant away each week. Anyone interested can join by submitting their name and email address, and participants will have 52 chances to be gifted a pendant (open source Spirituality). We also, will be starting a fully automated affiliate program, where affiliates will have the opportunity to earn extra money with us. We are also working on a line of ancient Egypt essential oils, that we will infuse extra frequencies into them for more power experiences while using our pendants. Please contact me if you want to be put on our mailing list.
In Conclusion
I want to thank David Sereda for giving me the opportunity to sell and experiencing the benefits of his pendants (I wish him and his family all the best). Should anyone be interested in seeing David's line of products, please visit davidsereda.net. If you have a moment. please read real testimonials from over 204 (at the time of this writing) verified buyers of our products. I feel the truth will always come to light; to be empowered we must support each other and not tear down others!
Peace!