Explore the Power & Beauty of Color-Changing Ethiopian Welo Opals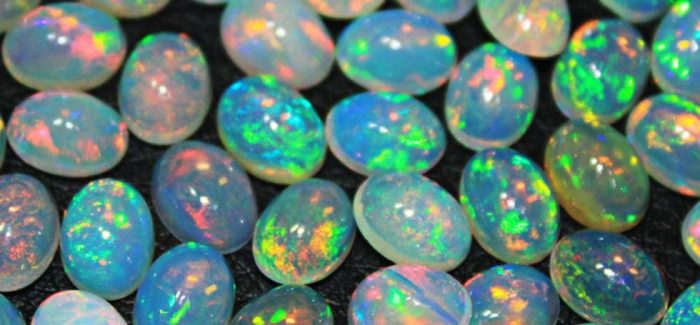 Believed to be a derivative of the Sanskrit word 'upata' —meaning precious stone — or the Greek Word 'oppallios' — meaning to see a change in color — it's easy to get lost in the fiery rainbow hues of opals. One of the most recent discoveries in the world of opal stones came with the uncovering of a mine in the Wollo Province of Ethiopia in 2008. A new cache of unique hydrophane opals were found buried beneath volcanic rocks in Wegal Tena village, hence why the term Welo opals and Wegal Tena opals refer to the same stones from this mine.
Observe this Opal's Riveting Reverting Hues
Hydrophane means 'water-loving' which is a property rare in opal specimens, as most types will become weak, crack, exhibit crazing, or permanently lose their color due to prolonged water exposure. According to a recent article in the GIA journal Gem and Gemology, the Wegal Tena opals "are highly resistant to heat, crazing, and display remarkably durability." While most opal owners panic when their stone loses its color and turns translucent, but there's no need to panic when this happens with the Welo opal due to its porosity.
We've found that once this particular type of opal dries out that its original hues return, a process that can take anywhere from a few hours to a day or so depending on humidity and the thickness of the stone. It's a fascinating process and is unique to these particular opals. Our new Opal Amulet series features this amazing Ethiopian opal, and we've found its healing potential and reaction to water to be purely as captivating as this stone of happiness and changes.
– Emotional, Physical, and Spiritual Benefits
The fire qualities emitted by these stones of hope and happiness are believed to help one understand the mysteries of life as it awakens their mystical and psychic intuition. Opals are called upon to instill faithfulness, loyalty, and spontaneity while inspiring creativity and imagination as it releases inhibitions and fears. This is a popular stone changes that can help one accept their inherent imperfections and give them the impetus to overcome them. Because they encompass the hues of the rainbow, opals are thought to effect the vibrational frequency of all seven chakras to some extent, making them ideal for auric balancing and healing. On the physical level, many use these soothing stones in effort to disperse infections, purify the blood and improve circulation, cleanse the kidneys, improve vision, alleviate pain in childbirth, lessen Parkinson's symptoms, and to relieve numerous other ailments.
Are Opals Ominous Bearers of Bad Luck and Misfortune?
Well, we have explored some of the legends and historical incidents that have likely contributed to the perpetual rise and fall of the popularity of opals throughout recent centuries. In fact, we found so many fascinating stories that we thought this topic deserved its own space. However, if opals are on your wish list, we'd have to say — go for it! Check out the post "Debunking the Myth that Opals are Bad Luck" and discover the precursors leading to this old 'wives tale' mentality.
©Universal Copyright 2016 is authorized here. Please distribute freely as long as both the author Stephanie Lucas and www.QuantumStones.com are included as the resource and this information is distributed on a non-commercial no charge basis.
[banners_zone id=12]