Crystals and Your Pet: Gemstone Therapy for a Happy, Healthy Companion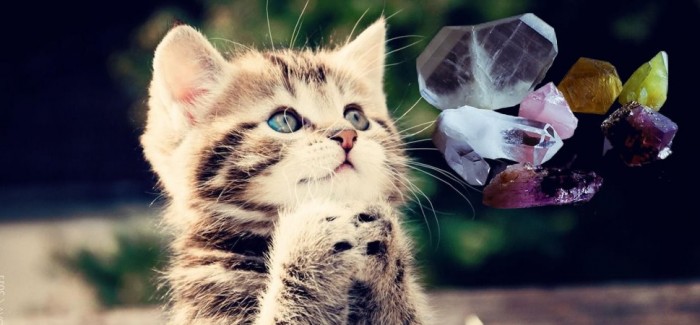 As pet owners, we develop special, sacred bonds with our animals and try to do all we can to ensure that they live healthy, happy lives. Like humans, animals have energetic fields that can be affected by illness, stress and negative conditions in their environment. Crystal therapy for pets is a holistic and revolutionary approach to animal healing. Crystals have a positive, renewing effect on our pets and can soothe a number of common ailments, from joint pain to emotional trauma.

Turquoise: Stop Excessive Barking
The sounds our pets make can be adorable, but near constant barking or howling can agitate pet owners, cause tension among neighbors and make daytime walks problematic. Turquoise's vibrant shades of blue and green provide comfort and healing in dogs who bark defensively or out of anxiety. Dogs that become agitated in the presence of strangers or other animals can benefit from wearing an Turquoise  pendant. Turquoise's calming, balancing effect on the Throat Chakra will keep your pets from being noisy and disturbing your neighbors–and your peace of mind. Cats that howl or cry excessively can also benefit from the stabilizing effects of Turquoise  on the lungs and throat.

Rose Quartz: Soothe Fears and Past Abuse
The gentle pink hues in Rose Quartz will provide emotional balance and serenity for your pets, especially for rescues or adoptions. Perfect for pets recovering from chaotic or abusive environments, Rose Quartz heals psychological distress and calms the Heart Chakra in animals who have the tendency to bark, bite or suffer from psychosomatic illness due to trauma. Rose Quartz is an excellent psychic aid for an aggressive or skittish pet to remain relaxed around children and other animals. Charge Rose Quartz by infusing the stone with healing energy; then, attach the charged stone to your pet's collar or place the stone in his favorite space. Below is an exercise to charge your pet's Rose Quartz:
Place a piece of Rose Quartz on your breast bone (Heart Chakra). Using your preferred methods, enter a state of meditation. Visualize the energy in your body gravitating toward the stone.
Imagine your Heart Chakra glowing with a white, healing light. Now, picture this light flowing into the stone. Focus on identifying changes in the stone's energy as you instill the stone with all of your love.
To provide your pet with strength for healing, create a mantra to invoke the protection of your pet's spirit guides. Meditate on this phrase, then tap into the power of your pet's divine protectors. Remember to always thank spirit guides after meditation.

Example: I call upon (pet's name)'s spirit guides. Please ease his fears, soothe his pain, and help him accept my love.
A List of Stones For Aging Pets
For pets who are getting older, suffering from joint pain, digestive issues, internal imbalances, circulatory problems and other ailments are a real possibility. Crystals can provide physiological relief for your older pet and help your pet feel younger. Listed below are several stones that target common age-related health issues:
Red Jasper: Excellent for chronic joint pain and poor circulation. Provides relief for painful kidney stones or UTIs. When your pet is relaxed, place two pieces of Red Jasper near each kidney and visualize the stone absorbing pain and waste from the body. Wearing Red Jasper beads is another option to revitalize your pet.
Moonstone: Provides hormonal balance for aging pets. Moonstone helps your pet grow in a shiny, healthy coat and provides relief from itchy, irritated skin; this stone also alleviates mild vision problems. Charge your pet's dry food with Moonstone for optimum benefits.
Black Tourmaline: Perfect for pets who are restless and irritated due to joint pain and arthritis. When your pet is relaxed or sleeping, place pieces of this stone on problem areas, such as the legs and hips; gently massage the stone on the area surrounding inflamed joints or tendons. (Since inflamed joints can be extremely sensitive, direct stimulation may be too painful.) Allow the stone's 'magnet' effect to gently draw out pain from the targeted area.
©Universal Copyright 2015 is authorized here. Please distribute freely as long as both the author Alexa Pellegrini and www.QuantumStones.com are included as the resource and this information is distributed on a non-commercial no charge basis.