New Year, New You: Crystals for Addiction, Positivity and Renewal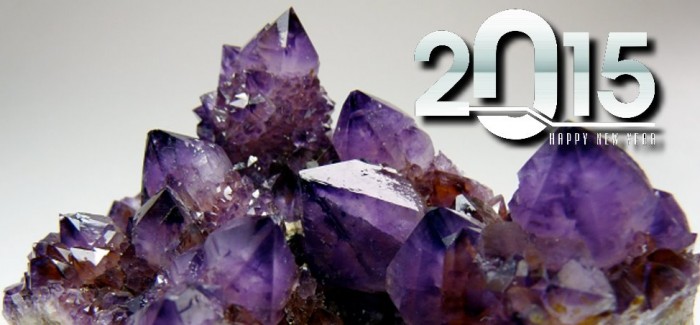 With 2015 rolling in, you may have already found yourself struggling to commit to achieving your resolutions for the new year. Crystals are the perfect solution to finding the energy, motivation and positivity to fulfill your new year's resolutions–once and for all. The soothing, therapeutic energy that crystals offer will help you kick addictions, lose bad habits, and create positivity and change in place of negativity and stagnation.
Amethyst: Your Key Catalyst for Change
Amethyst, a supercharged form of quartz, promotes well being and allows you to connect with your higher self to recognize the changes you must make to find happiness. This is an excellent stone to use when taking the first steps toward change, particularly if you are strongly attached to self-destructive habits.  The following exercise with Amethyst will open your soul to the healing benefits of gemstones and facilitate the changes you seek for the new year.
Hold a piece of Amethyst on the center of your forehead. Use your preferred method for meditation and begin to focus on what you want to change.

Visualize your Chakra points opening to absorb Amethyst's vibrations into each point of your psyche. Focus on opening each point from top (Crown) to bottom (Root). Place special emphasis on resistant Chakra points. Reflect on the inevitability and power of change.

When you feel your auric field is more receptive to external energy, you can begin meditating with any other desired stone. Emerge from meditation by visualizing your Chakra points closing again.

Drop Stubborn Weight With Apatite and Rhodonite
2015 is your year to lose the weight you've been struggling to shed! Apatite, a vibrant blue crystal, promotes weight loss by suppressing your appetite (no pun intended) and boosting your metabolism. Rhodonite, a black and pink marbled stone, cleanses the liver of toxins and works in synch with the Heart Chakra to soothe the need to indulge in emotional stress eating. Place shards of Apatite and Rhodonite among kitchen spices and dried foods for portion control. Charge your evening bathwater with Rhodonite to decrease late night cravings. Carrying either stone during exercise will increase stamina and calories burned.
Kick Cigarettes for Good: Red Jade's Power

Quitting smoking is a common new year's resolution, but far from easy to achieve. Red Jade is the optimal stone for reducing nicotine cravings and helping you kick the habit for good. The stone's intense vermillion hues absorb and counteract the tension and irritability that accompany nicotine cravings. Red Jade provides a natural 'buzz' similar to nicotine's stimulating effects on the mind and body. Hold a piece of Red Jade on your Throat Chakra each time you have the urge to smoke, and place a shard in your pocket to reduce cravings throughout the day.
Saving Up and Earning Cash: Green Jade's Wealth

Making money and saving up be a maddening preoccupation. However, Green Jade's lucky energy can draw in unexpected fortune and impede impulse spending. Place a small piece of Green Jade at the bottom of your wallet along with several 20 dollar bills to 'multiply' your fortune. Keep the Green Jade and these bills in your wallet to attract abundance. Only remove one of the original bills when your wallet is twice as full as it was to start. Each time you feel plagued with financial worries, rub a piece of Green Jade between your palms. Reaffirm that you are worthy of finding joy and fortune, and you will draw in positive energy to change your luck.
©Universal Copyright 2015 is authorized here. Please distribute freely as long as both the author Alexa Pellegrini and www.QuantumStones.com are included as the resource and this information is distributed on a non-commercial no charge basis.