Keeping Positive and Productive Through A Virtual Education Era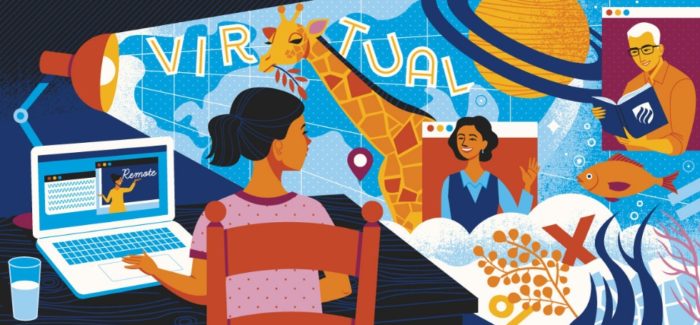 Whether you're a student or a teacher, education can be stressful and difficult. From managing tuition payments to unruly students, it can be hard to keep a positive and productive attitude. Add to these challenges a widespread virtual shift brought about by a global pandemic, and the results can be overwhelming. 
But maintaining positivity and productivity in the era of virtual education is still possible. From taking the time to recognize your achievements to showing yourself some compassion, you can boost your mental health and potential for success even as you navigate new challenges. 
Follow these strategies for a positive and productive approach to your virtual education. 
Show Self-Compassion
First, pat yourself on the back. Continuing your education is a difficult feat in any environment. Similarly, attempting to teach students is hard even when you have physical proximity on your side. Managing a virtual classroom is an entirely different ballgame, one that requires new skills, coping strategies, and approaches. In short, you're going to make mistakes and you're going to need breaks.
Keeping your mind, spirit, and body in a productive state requires self-compassion. Virtual education is difficult, and we all need time to step away and reflect on our individual needs. Issues like Zoom dysmorphia are common, and educators are becoming increasingly aware of them. If you need to step away, turn off your camera, or take a break, allow yourself to do so. If you're an educator, this may not always be possible, but you can still adjust your screen to keep yourself out of focus.
Practicing self-love and compassion is always a good idea. Learn to recognize things you love about yourself and try to give yourself a break when you need it. You don't have to be guilty about a mental reset, as it can help you return to your work more productive than before.

Recognize that You Aren't Alone
Additionally, keep in mind that you are not alone in your struggles. As an educator or as a student, millions of others are out there struggling with the same Zoom fatigue, dysmorphia, and productivity challenges that you are. Remind yourself of this important fact and then reach out for community support. 
This can be even easier with a thorough understanding of classroom technology. Platforms like Zoom and other popular classroom tools often have chat features and collaboration opportunities for inviting discussion. As an educator, you can open up these tools for student support. Alternatively, you can find other virtual message boards and groups where you can share concerns and questions with your peers. 

Find Gratitude
The stress of pursuing or providing an education can sometimes be overwhelming. Fortunately, something as simple as maintaining a sense of gratitude for people, hobbies, and resources in your life can make a huge difference in your stress levels. In fact, studies have shown that gratitude decreases levels of stress-inducing cortisol in the brain. In turn, you can reduce your risk of mental health issues like anxiety and depression. 
But finding gratitude in college or a teaching position isn't always easy. Compounding due dates, work schedules, social lives, and more can sometimes stand in the way of the things that are going right for us. Gratitude can be best found by taking time out to think, reflect, and relax. Hanging out with friends or journaling — then allowing yourself a sense of gratitude for the resulting positive feelings — can go a long way towards restoring your positivity and productivity.
Explore new methods of journaling and reflection to help you find things you can truly feel gratitude towards. Mind-mapping software, for example, can help you brainstorm and even collaborate with others to creatively illustrate positive elements of your life. Using these tools can be a great exercise to practice gratitude on an individual or classroom basis.

Get Outside
Finally, spend some time outdoors. Research has shown that spending time outside helps relax the prefrontal cortex of the brain and thus reduces the repetitive, anxious thoughts that can lead to a negative mood. Anything from 20-30 minute walks per day to consistent outings to the woods can help refresh your mental state and put your whole world in perspective. 
But finding the time to be out in nature can sometimes be difficult — especially when juggling and education amidst all of life's demands. Fortunately, the health benefits of getting outside sometimes don't even require you to actually be outside. A Scientific Reports study showed that simply listening to artificial nature sound can help you refocus your brain on the world around you and get out of problematic mental loops.
Regardless of your schedule and environment, you can add some form of an outdoor regimen to your daily routine and reduce the burden on your brain. Virtual education can be great for providing the flexibility you need to get outside. Whether that means bringing your laptop to a community park with nearby WiFi connections or listening to nature sounds while stuck in your dorm, nature can help you destress.

Staying Productive and Positive
We won't sugarcoat it — virtual education is often frustrating and stressful. However, by taking time out for self-compassion, community, gratitude, and nature, you'll be able to approach your work and studies again with a positive and productive mindset. Apply these strategies in your own education or teaching experiences and be willing to reach out and help other struggling virtual students.
With each other's help, we can cut the stress and stay true to ourselves.