December's Full Cold Moon: Finding Balance, Inner Peace and Prosperity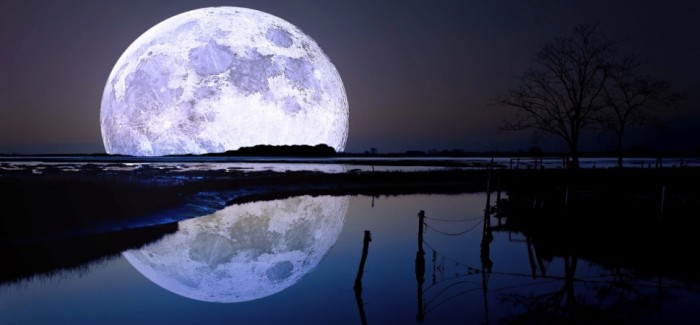 This year, astronomy and astrology fans will get an extra special gift on December 25. According to NASA, a full Moon will appear on Christmas day for the first time in 38 years! Also called the Cold Moon, the final full Moon of 2015 is an extraordinary event, as we won't see another full Moon on Christmas day until 2034. Besides being a gorgeous spectacle to observe, this rare astronomical treat serves a special purpose: to reflect on the feminine influences within our lives, our innermost feelings and what energies we need to release so we can make 2016 an amazing new year.
The Cold Moon in Cancer: Femininity, Family, Gratitude 
The full Moon on December 25 will be in sensitive, nostalgic Cancer at 3.19 degrees. (Click here to figure out when you can best see the full Moon in your location.) Cancer represents yin energy, motherhood, nurturing and our roots. In the natal chart, the Moon in Cancer exaggerates the native's need for security and creature comforts and shows some difficulty with letting go of the past. In transit, the Moon in Cancer operates similarly and draws us to reflect on our innermost feelings, our family unit and our foundations. Even if you don't celebrate Christmas, the appearance of the Cold Moon on Christmas day is a good reminder for all of us, regardless of our creed, to show gratitude to those we love – especially family and old friends – and reflect on our emotional nature.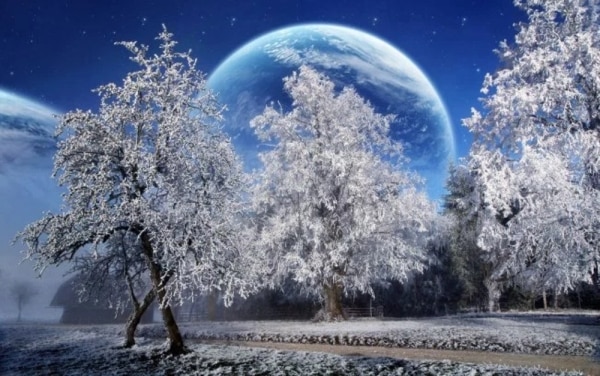 The Moon and Sun in Opposition: Finding Balance and Setting Goals 
This month's full Moon in Cancer will also oppose the Sun in Capricorn, which will create some tension as we grapple with following our deepest desires and our instincts (the Moon) or acting on the impulses of our ego (the Sun). For many, this aspect will increase feelings of insecurity over emotional and financial security. Christmas is almost always full of laughter, presents and joy, but for others, the end of the year into New Year's can create anxiety over money, relationships and feelings of loneliness as the winter blues hit us hard. While the Moon in Cancer loves to indulge and freely express its feelings, the hard-nosed Sun in Capricorn reminds us not to overextend ourselves and lose control of our emotions. If you're currently in a slump and struggling to get back on your feet or create goals for the new year, this aspect encourages you to remain level headed, seek support from those you love and look deep within to understand what you truly want. Here are a few other ways you can best take advantage of this Cold Moon in Cancer:
Let go of the old to usher in the new.

The transiting Cancer Moon-Capricorn Sun opposition will also push us to let go of the past. If you skipped out on your spring cleaning this year during April's lunar eclipse, now is a crucial moment to release harmful emotions and memories (Cancer) that are only holding you back from success and stepping into your own power (Capricorn). As the year comes to an end, look back and observe your relationships and your choices: what in your past (Cancer) will not fit into the paradigm of your future (Capricorn)? Are there any damaging habits (Cancer) that you must let go of to make 2016 a fantastic year?
Reflect on the feminine aspects of your life.

Since the Moon is at home in Cancer, the feminine energy (and lack thereof) in our lives will be highlighted during the full Moon and for a short period after. Without balancing our feminine and masculine energies, we can feel off balance and lack inner peace. Are you honoring the women in your life who support and inspire you? If you're out of touch with your own feminine energy, meditate on opening your heart to receiving the love and wisdom of a female figure in 2016. Better yet, find a female figure who inspires you and seek to replicate their admirable qualities as one of your New Year's resolutions.
Be nostalgic in a healthy way. Remember 

to appreciate all of the wonderful people and things that you have in your life and in your home. At its best, Cancer is appreciative and caring, and the sign values its family and traditions. If you haven't seen your relatives all year, arrange a visit. Go over and spend time with friends, or host a neighborhood party. The sense of familiarity and comfort that comes with this full Moon will make spending time with family and old friends even more emotionally fulfilling.
Start saving up – and liberate yourself from fearing money. Both Cancer and Capricorn are generous, but they're also frugal signs. If you've found yourself worried about breaking even or being broke all year, now is the optimal time to start an emergency savings account to deposit even 10 or 20 dollars into every week. Come next Christmas, your wallet will thank you for thinking ahead so you can prosper.
©Universal Copyright 2015 is authorized here. Please distribute freely as long as both the author Alexa Pellegrini and www.QuantumStones.com are included as the resource and this information is distributed on a non-commercial no charge basis.
[jetpack_subscription_form]
[products_carousel display="category" product_cat="168″ featimg="thumbnail" price="true" add_to_cart="true" auto="true" timeout="4000″ pager="false"]