December's Full Cold Moon Brings Inner Peace and Prosperity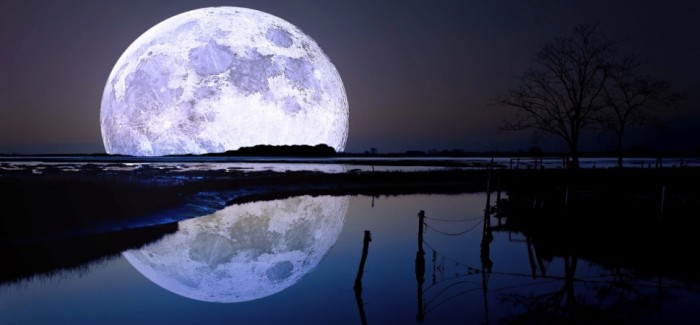 This year, astrology fans receive a special gift on December 25: a full Moon appears on Christmas day for the first time in 38 years. The final full Moon (cold Moon) of 2015 is an extraordinary event that won't return for almost two decades. Besides being a gorgeous spectacle to observe, the cold Moon allows us to reflect on the feminine energy in our lives, how we care for our heart space, and what we need to release to welcome a vibrant new year. 
Offer Gratitude To Others (And Yourself) 
December 25 ushers in a sensitive, nostalgic Cancer Moon at 3.19 degrees. (Click here to figure out when you can best see the full Moon in your location.) Cancer represents yin energy, motherhood, family, and our roots. This sign symbolizes the baggage we carry, for better or for worse, and the framework we use to navigate the adult world. The Moon transiting through Cancer exaggerates our collective need for security and studying the past. Even if you don't celebrate Christmas, the appearance of the cold Moon invites you to perform small acts of gratitude to strengthen our bonds. Moreover, the Moon's influence awakens us to where we aren't properly mothering ourselves. It's the perfect time to spoil yourself with a gift or remake your self-care routine.
Out With The Old, In With The New  
The full Moon in Cancer opposes the Sun in Capricorn, an aspect that forces us to reconcile our innermost needs (the Moon) with our ego drives (the Sun). In other words, the energy surrounding Christmas Day will help us identify if we're living authentically or repeating old patterns within new relationships. While the Moon in Cancer tends to make us indulge rather than repress our emotions, the hard-nosed Sun in Capricorn challenges us to ask ourselves if our worries or needs are founded. Keep a level head, seek support from those you love while remaining firm in your values, and set realistic goals. Here are a few other ways you can best take advantage of the Sun-Moon opposition:
Release Old Beliefs
If you skipped out on psychic spring cleaning during April's lunar eclipse, now is a crucial moment to release toxic beliefs and memories that hold you back from stepping into your power. As the year comes to an end, look back and observe your relationships and your choices. What in your past (Cancer) will not fit into your future (Capricorn)? What self-indulgent habits must you release to make 2016 your year? 
Receive Yin Energy
The Moon is at home in Cancer, so the feminine energy (and lack thereof) in our lives will be highlighted during the full Moon. Without balancing the anima and animus, we may struggle with joyful self-expression or balancing our emotional equilibrium. Are you honoring the women in your life who support and inspire you? If you find it challenging to give and receive love and affection, meditate with Rose Quartz and open your Heart chakra by wearing an Aventurine pendant. 
Embrace Family 
This Christmas Day, take a moment to make a list of your treasured memories, belongings, and people. Keep this list close and glance over it when the post-Christmas blues hit! Host a holiday get-together and try to invite relatives or friends who have fallen out of touch. The sense of comfort that comes with this full Moon supports emotionally fulfilling, heart-to-heart talks. 
Start Saving 
Cancer and Capricorn are paradoxical. Though generous and quick to protect loved ones, they also prioritize safety and security above all else. They can be surprisingly frugal, and the cold Moon in Cancer will pull no punches in showing us where we need to cut back. However, don't be afraid to take healthy risks with your finances. Making small investments pay off down the road.
©Universal Copyright 2015 is authorized here. Please distribute freely as long as both the author Alexa Pellegrini and www.QuantumStones.com are included as the resource and this information is distributed on a non-commercial no-charge basis.