Mercury Retrograde in Libra 2015: All's Fair in Love and War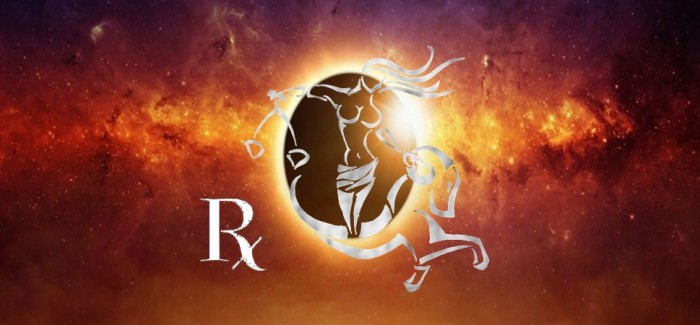 It's that time of year again: Mercury in Libra enters its final Retrograde of the year on September 17. Time for texts taken out of context, missed calls, and petty arguments! Until October 9th, Mercury will recalibrate the scales in our closest relationships and throw our communications off-kilter. The total lunar eclipse in Aries on September 28th kicks up the pressure by compelling us to release connections that no longer serve our higher purpose. Combined, these transits spell trouble for couples who have been at odds since Venus turned Retrograde this past July.

What is Mercury Retrograde?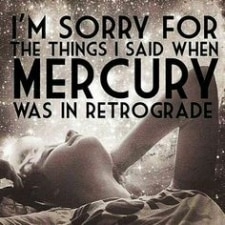 Mercury turns Retrograde three to four times each year for several weeks. From Earth, it appears to be orbiting backward. However, this is an optical illusion. Imagine driving down the road next to a slower car. From your perspective, the car seems to be moving backward, even though it really isn't. Mercury isn't known as the trickster of the Zodiac for nothing! When Retrograde, the usually fast-footed planet is even more prone to bungling trips of all kinds, canceling flights, and sabotaging our devices. True to the prefix 'Re-,' this transit asks us to 'rewind' and think about everything in the 'recent' past that may cause problems for us down the road. Mercury Retrograde in the Zodiac's symbol for harmony makes us take a closer look at how we feel loved and safe in our relationships.

Mercury Retrograde in Libra's Tough Balancing Act

Libra may not be the most outwardly assertive sign in the Zodiac. But anyone who loves a Libra knows that even the most introverted Venusians share the persistence of their axial twin Aries, stopping at nothing to get what they want. Mercury in Libra's Retrograde spell sets the stage for face-offs of all kinds, from arguing over whose turn it is to take out the trash to revisiting old legal matters. But with Mercury off-kilter, beware of signing contracts and making strictly verbal agreements. As Mercury toys with Libra's scales, we may find ourselves more prone to gossiping and watching petty drama unfold among friends. Expect tension between couples to escalate when Mercury makes a tense square to manipulative Pluto smack dab in the middle of its Retrograde phase. Before you accuse someone of treating you unfairly, make sure to gather all the facts (and verify them twice).
The Struggle of Me vs. We

Though the seventh sign of the Zodiac is all about relating, this Mercury Retrograde cycle affects how we communicate with our roommates, business partners, neighbors, and siblings. Mercury governs our day-to-day communications, as well as our siblings and neighbors, while Libra represents relationships of all kinds. Take this time to evaluate how you advocate for yourself in your relationships, particularly if you're an Air sign (Gemini, Libra, Aquarius) and have Venus or the ruler of your seventh house in Libra or Aries.

Watch out for fights between you and your significant other becoming a battle over what's fair. Figure out what fairness looks like in your relationship by channeling Libra's diplomatic energy and talking out what makes you dissatisfied–before the lunar eclipse in Aries on September 28th befalls us. After the lunar eclipse, any issues that were glossed over will rapidly bubble to the surface. At worst, Libra tends to avoid confrontation in the name of harmony; the Moon's righteous passage through aggressive Aries will kick up the heat and force unspoken grievances to come out into the open. If boundaries are unclear, this Mercury Retrograde cycle may help you rediscover your identity outside the relationship.

Mercury turning Retrograde in any sign is notorious for making exes come around knocking. With the mighty messenger in harmonious Libra, we may feel obligated to go back and forth with our ex's over text or email, even if those relationships are better off left in the past. Before you reignite an old flame, think about the consequences.

3 Tips To Survive Fall 2015's Mercury Retrograde Phase

1. Libra (along with its Venusian twin, Taurus) loves to look glamorous and indulge in self-care. But think twice before splurging on expensive beauty items. Packages may be delayed or stolen; if you can't resist online shopping, keep a close eye on that caviar-infused moisturizer before it gets swiped!
2. Mercury's restless influence may tempt you to scroll Instagram and 'check on' an old flame or daydream about a meet-cute with a passing crush. Libra isn't notorious for being unfaithful, but Venus is the sign of universal love. In other words, boredom may rear its ugly head. Just take stock of all the Mercury in Retrograde dating horror stories that populate the Web before you make a move in real life.

3. The Zodiac's social butterfly is frustrated by Mercury in Retrograde's crafty way of changing plans last-minute. Don't be fooled into thinking a friend or lover forgot about you. Double-check your spam folder, re-send that text, or give them a call to clarify your plans. Resolve communication issues between you and your partner as soon as they come up. 
©Universal Copyright 2015 is authorized here. Please distribute freely as long as both the author Alexa Pellegrini and www.QuantumStones.com are included as the resource and this information is distributed on a non-commercial no-charge basis.