Mercury Retrograde in Libra 2015: All's Fair in Love and War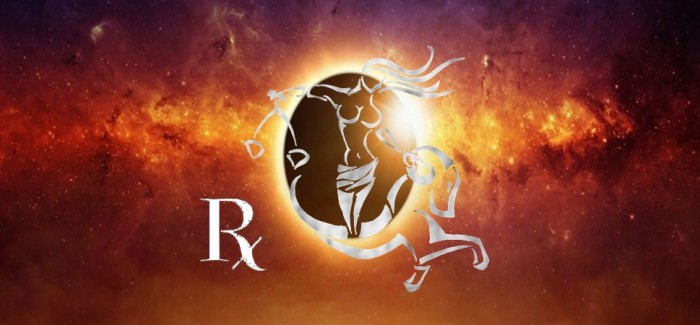 It's that time of year again! Mercury turned Retrograde on September 17th at 15 degrees Libra, and texts taken out of context, missed calls and lost paper work are all around the corner. Until October 9th, trickster Mercury will toy with Libra's scales for fun, and this will place a huge strain on our social lives and romantic relationships. On top of this, a total lunar eclipse in Aries on September 28th will compel us to let go of our heavy emotions and outdated ties. This double whammy spells trouble for couples who have been at odds since Venus Retrograde this past July. Here are a few ways you can successfully navigate Mercury's rocky terrain through the sign of Love.
What is Mercury Retrograde?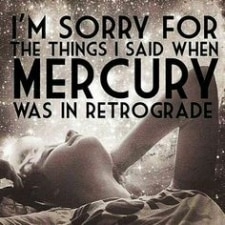 Mercury goes Retrograde three to four times each year for about three weeks at a time, and from Earth it appears to be orbiting backward. However, this is an optical illusion. Imagine driving down the road next to a slower car. From your perspective, the car seems to be moving backward, even though it really isn't. This is a good metaphor for the brilliant, bizarre paradox that is Mercury Retrograde. Mercury Retrograde is a trickster, and it can cause delays and disruptions with technology, communication and travel. Lost chargers, dead batteries and cancelled flights are just a few of Mercury Retrograde's favorite tricks. This transit also allows us to reexamine what we may have missed in the recent past.
What's Fair is Fair – or, Maybe Not… 
The scales are out of balance with Mercury Retrograde in Libra, and we'll face a few situations that leave us coming up empty handed. Legal matters may suffer due to biased judgments, missing evidence or even hung juries, as indecision is one of Libra's major faults. A certain degree of deceit and gossip may occur in our social circles; we may even find others trying to sabotage us or our relationships when Mercury makes a tense square to manipulative Pluto during its Retrograde cycle. The words we speak and write via text, letters or e-mails may be taken out of context, or even used against us to frame us in poor lighting — Libra's worst nightmare. Conquer any underhanded people you meet during this cycle by remaining diplomatic. And remember: with Mercury Retrograde, it can be good to hold your tongue.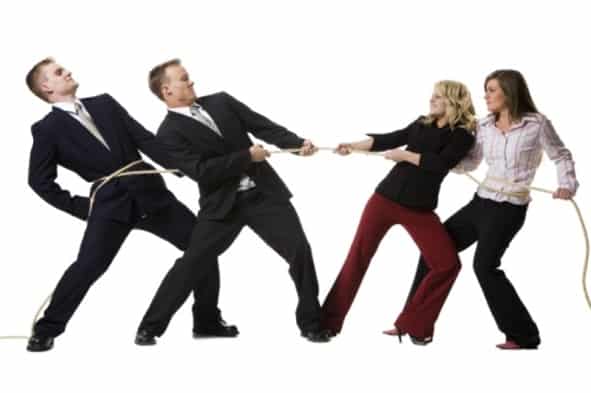 Mercury Retrograde in Libra and Love's Tug of War
Romantic relationships will be hit hard by this Mercury Retrograde cycle. We're more likely to be irritable about what's fair and unfair in our relationships and more demanding of our needs. Issues from the past can cause serious disagreements. When we quarrel with our lovers, we may be hung up about who the "winner" is. On the other hand (a very Libran phrase!), some of us will find this Mercury Retrograde phase will give us the chance to talk about and resolve longstanding issues in our love lives.
Either way, struggling couples will either fall into having deeper, more complex arguments or finally reintegrate harmony back into their relationships. The lunar eclipse in Aries on September 28th will force us to decide if our relationships are working or not, and to examine if we truly value our partners and express how grateful we are to have them in our lives. This double whammy will help us either heal in our relationships or confidently move on. On a side note, Mercury Retrograde is notorious for making exes come around knocking, and we may feel obligated by Libra's sympathetic energy to work things out. Resist temptation, and keep moving forward.
Quick Tips for Rebalancing Mercury's Scales in Libra
This is the worst time of the year for a make-over. You'll probably regret the changes, so don't re-wallpaper your home or get a radical new haircut until the end of October!

   

Current astral energies make it tempting to play the "blame game" or have an eye for an eye mentality with our partners. If you become aggravated for your partner, pause and think of 5 things you're thankful for about the person you love, and feel the anger dissolve.

Like any other Mercury Retrograde phase, don't skimp on checking for typos, missed information or gaffes before you send important e-mails and texts.

Last-minute changes and cancellations while traveling tend to occur mostly at the beginning and end of a Retrograde cycle, so give yourself plenty of time to catch that airport bus and double-check you have your plane tickets.
©Universal Copyright 2015 is authorized here. Please distribute freely as long as both the author Alexa Pellegrini and www.QuantumStones.com are included as the resource and this information is distributed on a non-commercial no charge basis.
[jetpack_subscription_form]