Safe and Effective Essential Oil Carriers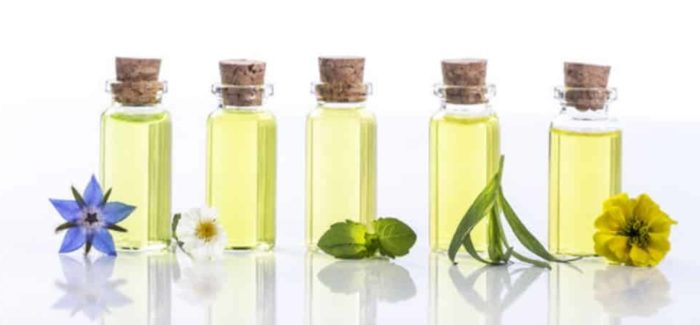 When using pure, unadulterated aromatherapy oils such as Quantum Stones Sacred Egyptian Oils™ using a carrier oil to dilute them is highly advisable. While there are RARE occasions that one may use direct application techniques under the supervision of a professional, the risks of doing so include severe skin irritation and sensitization. Carrier oils are typically extracted from the fatty parts of plants such as their seed or nuts and each features its own textural properties and healing benefits, so it's recommended to try several until you find the ones that best suit your needs intended uses. Below is a list of the some of the best carriers for reducing essential oil concentrations for safe topical use.
Water Based Essential Oil Carriers
Need relief fast? The high water content of water based carriers allows them to absorb quickly, making them ideal for acute pain relief in a pinch. Common water based carriers include aloe vera gel, distilled witch hazel, lotion and diluted apple cider vinegar to name a few. These are great options for situations in which an oil carrier might irritate the condition, and with the exception of lotion many are useful in creating natural household cleansers with essential oils.

Oil Based Essential Oil Carriers
Carrier oils and butters will linger longer on the skin, allowing the essential oils to permeate deeper into the skin and work longer than those in water based carriers. For this reason, oil based carriers are the most popular choice for massage oils, perfumes, tea-light diffusing, soaps and numerous topical applications. Here are top choices for creating blends.
Sweet Almond Oil — Excellent for all skin types, sweet almond oil soothes, balances and softens the skin. Rich in protein, fatty acids, vitamins B1, B2, B6, A, and E this emollient promotes skin rehydration to alleviate itching, irritation and inflammation.
Coconut Oil — An incredible balance of saturated natural fats, coconut oil boasts both antibacterial and antiviral properties and is remarkably therapeutic for the skin and hair. Pure coconut oil used for cooking will work but solidifies at temps below 76-degrees. Another option is fractionated coconut oil, which doesn't solidify.
Jojoba Oil — Beloved by the cosmetics industry because it serves as a natural skin emulsifier that unclogs pores and helps control acne conditions, jojoba oil is a popular carrier for topical uses. It contains myristic acid which makes is great a great anti-oxidant that is soothing for inflammation and dry skin.
Avocado Oil — A heavy oil rich in essential fatty acids, lecithin, protein, potassium and Vitamins B, D, A and E, avocado oil helps regenerate dehydrated and undernourished skin. Because it's so heavy and highly penetrative, many users opt to mix avocado oil with another carrier such as grape seed or almond oil to make up 15-30% of the carrier mixture.
Olive Oil — Used since ancient times as an anointing oil, lotion, hair conditioner, skin moisturizer, to make soap and for cooking, olive oil is an excellent essential oil carrier. Stick with pure extra virgin olive oil because it's minimally processed through cold pressed extraction methods.
Grape Seed Oil — Light in texture and nearly odorless grape seed oil quickly absorbs in the skin. Rich in skin-rejuvenating linoleic acid, Vitamin E and protein, grape seed oil's astringent qualities are excellent for toning and tightening, making them perfect for facial treatment applications.
Apricot Kernel Oil — Apricot kernel oil is finely textured, spreads easily and is rich in linoleic and oleic acids that are beneficial for delicate, dehydrated and mature skin. It's often used during facial applications to soothe inflammation and superficial skin irritation.
Hazelnut Oil — Excellent for circulation and rich in fatty acids and vitamin E, hazelnut is a superior toner, tightener and skin regenerator that assists in strengthening cell capillaries making it a go-to oil for massage therapists and beauticians.
Evening Primrose Oil — Often taken internally on its own to improve digestion, evening primrose oil is rich in fatty acids like gamma linolenic that make it remarkably healing for inflammation and other skin conditions such as psoriasis, eczema and excessive dryness.
Rosehip Seed Oil — Light and easily absorbed, rosehip seed oil is a common carrier oil for moisturizers, foundations and anti-wrinkle products. It helps restore sun damaged skin, scarring, and helps reduce inflammation.
Borage Oil — One of the highest concentrations of anti-inflammatory gamma-linolenic acids available in carrier oils make borage oil a superior choice for those seeking to treat arthritis, morning stiffness and conditions associated with dry skin, rosacea and dermatitis.
Hempseed Oil — Hempseed oil is exceptionally rich in proteins and essential omega fatty acids that give it a number of therapeutic properties including reducing inflammation. Its pleasant nutty smell wont overpower essential oils and it absorbs evenly into the skin.
Calendula Oil — Often used as a nourishing skin emollient, calendula oil boasts anti-bacterial properties that make it a favorite choice for wound support after cuts, bits, burns, scrapes, etc. Its anti-inflammatory and soothing benefits pair well with a number of essential oils.
Pure Sacred Egyptian Oils™
Don't forget to check out our Sacred Egyptian Oil™ collection of pure, unadulterated essential oils that have a powerful effect on the primary chakras and the endocrine system to promote mind, body spirit wellness. What are some of your favorite essential oil carriers and uses?
©Universal Copyright 2018 is authorized here. Please distribute freely as long as both the author Stephanie Lucas and www.QuantumStones.com are included as the resource and this information is distributed on a non-commercial no charge basis.