4 Fast Ways to Banish Negative Energies and Shield your Spaces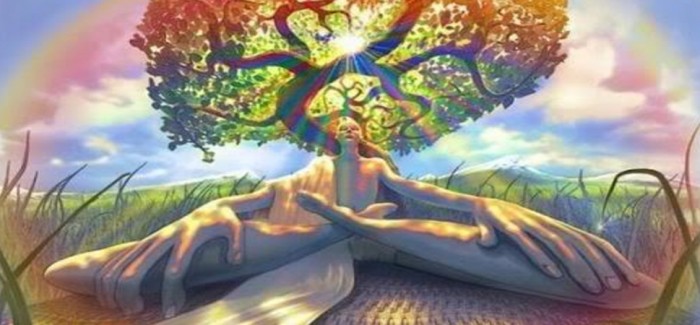 Moving into a new home or office space can be a stressful, yet joyful time – so, you want to get off to a solid footing and be sure that you're not channeling into someone else's old energies as you move in. Perhaps you've been in your space for awhile and are ready to cleanse the past from your space. If you're looking for a few ways to clear negative energies and protect your area from psychic invaders, here are a few ideas.
1. Burning and Smudging with Sage: Negative Energy Cleansing
If you're not familiar with this process, take a peek at this video, Burning Sage to Cleanse Negative Energies. While I'm not the expert Alexa is, I'd suggest smudging with sage before moving anything into your new space to promote good vibes during the move in and renovation process. However, even your possessions – as forms of energy – can carry negativity, so burning sage after moving in can't hurt.
2. Surreptitious Shielding: Placing Affirmations on Walls
A good friend of mine just bought her first home, and being one who lives in gratitude, she had the clever idea of writing affirmations on the walls before tackling repainting with stimulating, soothing, and healing colors. Sealing the affirmations behind paint ensures they are always there in the shadows…resonating good vibes, protecting, and manifesting desires for her fresh start. It's certainly a clever, fun way to 'break in' a new space with good intentions.
Of course, your chosen affirmations can be any proclamations that you may aspire for, including single words or phrases like 'Peace, Love & Joy," "We are One," etc. Here are two favorite affirmations from Rich Work's 'Proclamations of the Soul.'
---
Affirmation for Clearing Entities/Negative Energies
From the Divine Love that flows through my Being: Whatever is in my home that is impeding the flow of positive energy, Whether here with or without my permission, I command in the name of the Creator and from the Divine Love That flows through my Being in love and Peace, That it now go to the nucleus of its being in Peace So be it!
---
Prosperity Affirmation
From the Divine Love that flows through my Being:
I call forth my abundance and prosperity
In all forms that will bring me happiness and joy.
So be it!
---
3. Protection Stones and Crystal Grids
Using protection stones and crystals to fend of negative energies is extremely important for those who are highly empathic people and especially for those living or working in connected structures such as condos, strip centers, or hi-rises. Typically, placing aligned crystals or stones in each corner of a space will offer shielding; however in the case of common walls you may want to create additional protections such as crystal grids.
Clear quartz is the most commonly used stone to facilitate the energy transfer between stones and minerals within a grid. It is this energy that connects transfer that increases the focusing abilities of the crystal grids points. There are no restrictions on gridding's purposes or intentions; however, alignment of the stone pattern is the key to maximizing their efficacy in addition to choosing the right stones. Learn more about crystal grids and explore Popular Crystal Gridding Templates here.
4. Create Sacred Spaces
A sacred space is simply an area you create and designate as 'sacred' to you. It may be a small space with a few items of importance to you or a large, private space with an 'altar' laden with dozens of goodies you hold dear. My sacred space includes shells, stones, crystals, musical instruments, candles, sand, pictures, posters, and a special pillow to name a few items. Consider this your little 'happy zone' where you come to rebalance and center…an area that you keep off limits to others, which ensures it stays clear of negative energies.
Because when it boils down to it, you can cleanse your home or office in a dozen ways, but if your mind, body, and spirit aren't clear of negative energies, to what end does it serve to protect beyond that?
©Universal Copyright 2014 is authorized here. Please distribute freely as long as both the author Stephanie Lucas and www.QuantumStones.com are included as the resource and this information is distributed on a non-commercial no charge basis.
[jetpack_subscription_form]
[products_carousel display="category" product_cat="168″ featimg="thumbnail" price="true" add_to_cart="true" auto="true" timeout="4000″ pager="false"]